Updated Tuesday July 19, 2016
We still compost! Humanure Lasagna gardening Hugelkultur Worm composting Pile Bin Or just leave it where it falls, we do it all.
November 2009 compost update
Well the compost hasn't been getting any special attention for the past couple years. Just adding buckets into the piles, putting whatever cover material we can find over it and letting the compost age before use. It just works and isn't any special challenge. Our compost gets hot and isn't stinky so we are happy. The trash cans stay nice since any stinky nasty stuff goes in the compost where the process turns it into useful nutrients instead of a fly infestation around the garbage cans. I'm kinda sorry there isn't more to report but it is just all so simple that I can't make much more out of it.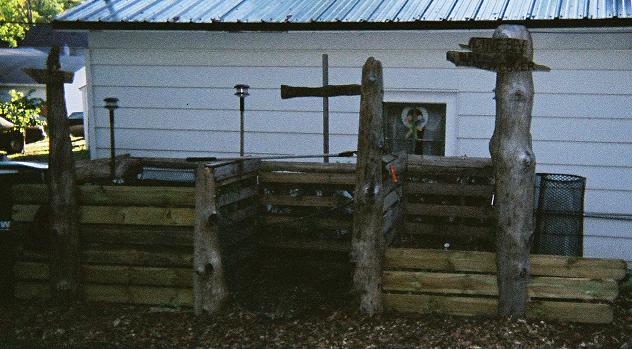 These bins (at my grandmother's house in Alden Michigan) were made using free pallets and then dressed up using driftwood we got out of Torch Lake. The front boards are fence pickets and are slid inbetween the pallets and driftwood on nails that were driven only part way in as spaces. These pallet bins are somewhat small but good enough if you don't produce large amounts of compost materials.
Our method of composting is what some people call continuous composting. This is where you fill a bin for a year (or until it is full) and then you let it age for a year. No need to turn the compost, just let it be. For this type of system most people use three bins. The center bin is for the stockpile of cover materials of stuff like straw and leaves. Anyway, one of the end bins is filled for a year or until it is full and then it is "put to rest" and the other end bin becomes the active bin or the one that is being added to. Hopefully the Active bin doesn't fill up before the resting bin is finished and ready to be used in the garden.
Our temps are normally between 130 and 160 F in the hot parts of the pile.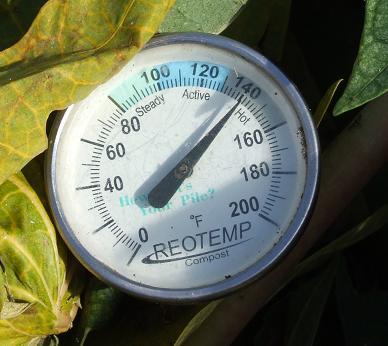 To learn about how we get such hot compost, check out the following Humanure Composting links
Urine is a key ingredient to good hot compost. A bit of used cooking oil or bacon grease also seems to turbo boost our compost temps.
To contact me or comment on the web pages please fill out the Form